Stainless steel Fasteners | 304, 304L, 309, 310, 316, 316L, 316TI, 317, 317L, 321, 904L
Nine Piping Solutions is one of the well-known exporting house and dealer of high quality Stainless Steel 317 Fasteners , which contain sufficient chromium to undergo passivation, forming an inert film of chromium oxide on the surface. Since iron oxide has lower density than Stainless Steel 317 Hex Head Bolts, the film expands and tends to flake and fall away.
This layer prevents further corrosion by blocking oxygen diffusion to the surface of Stainless Steel 317 Hex Head Nuts and stops corrosion from spreading into the bulk of the metal. Passivation in Stainless Steel 317 Square Bolts occurs only if the proportion of chromium is high enough and oxygen is present in it. Resistance to corrosion and staining, low maintenance, and familiar lustre make Stainless Steel 317 Square Nuts an ideal material for many applications.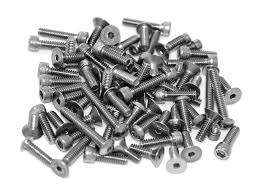 Specialization
| | |
| --- | --- |
| Grade | Stainless Steel 317/317L Fasteners |
| Standard | ASTM A193 / A194, ASME SA193 / SA194, IS, BS, ANSI |
| Size | M02 to M33 |
| Length | UPTO 5 METERS |