Inconel Sheet Plates & Coils | INCONEL 600 , 625, 718,X-750
Alloy 718 Sheets are almost exclusively supplied in the annealed condition.These Alloy 718 Plates are also often used in springs, fasteners, cryogenic tanks, etc. Alloy 718 Coils can be welded in either the annealed or the age condition.
Nine Piping Solutions is one of the most prominent manufacturer and supplier of Inconel 718 Sheets. Welding Inconel 718 Plates (UNS N07718) can be achieved via shielded metal-arc welding, TIG, and MIG. Inconel 600 Coils can be joined by the usual welding, brazing, and soldering process.  Bar stock may need to be stress relieved, or annealed before performing any heading operations. Alloy 718 Plates are often in a lot of applications such as for Heat treating retorts and muffles, Vacuum furnace fixtures, Titanium dioxide plants, Chlorination machinery to 1000 Degree F, etc.
Our Alloy 718 Coils is mixture of pure and best quality metals as our experts check very carefully each and every step of mixture. These products come in standard sizes. Other customized sizes and shapes are welcome as well.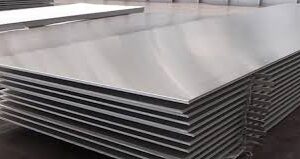 Specification
| | |
| --- | --- |
| Standard | ASTM, ASME and API |
| Specialized in | Shim Sheet, Perforated Sheet, B. Q. Profile |
| Size | 0.5 MM TO 200 MM WIDTH & 2500 MM TO 12500 MM |
| Thickness | 1000 MM TO 2500 MM |
| Form | Coils, Foils, Rolls, Plain Sheet, Shim Sheet, Perforated Sheet, Chequered Plate, Strip, Flats, Blank,etc. |
| Finish | Hot rolled plate (HR), Cold rolled sheet (CR), 2B, 2D, BA NO(8), SATIN |