Copper nickel Buttweld fittings| CU NI -70/30,CU NI 90/10
 Cu-Ni 70 / 30 Elbow Butt Weld Pipe Fittings (UNS C71500) is readily cold worked, fabricated and welded without any special material considerations. Cupro Nickel 70 / 30 Tee Buttweld Pipe Fittings also have important additions of iron and manganese which are necessary to maintain good corrosion resistance.
These Copper Nickel 70 / 30 Reducer finds its greatest application in areas of high temperatures and pressures combined with high velocity and destructive turbulence. Meanwhile, Cu-Ni 70 / 30 Cross Butt Weld Pipe Fittings are also being offered in different sizes and shapes to our customers. We are also one of the dominating the Manufacturers, Exporters and Supplier of these high quality Cupro Nickel 70 / 30 Pipe Bend, which is a copper nickel alloy with excellent resistance to corrosion and erosion it is strong and ductile. Coppr Nickel 70 / 30 Stub End Butt Weld Pipe Fittings may be known colloquially and is used for the manufacture of tubing for fresh water and for hot water cylinders.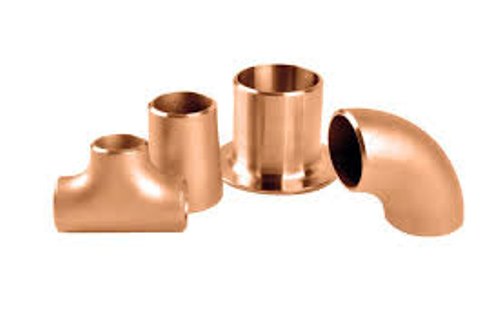 Specialization
| | |
| --- | --- |
| Standard | ASME/ANSI B16.9, ASME B16.28, MSS-SP-43 |
| Specification | ASTM B366 / ASME SB366 |
| Size | 1/2″ to 24″ NB to 24″NB |
| Thickness | 5s, 10s, 40s, 80s, 10, 20, 40, STD, 60, 80, XS, 100, 120, 140, 160, XXS available with NACE MR 01-75 |
| Type | Seamless / Welded / Fabricated |