Copper Nickel Alloy 70/30 Round Bars
Nine Piping Solutions is aptitude leading manufacturers, exporters and supplier of Cupro-Nickel 70-30 Round Bar, Copper Nickel Cu-Ni 70-30 (C71500) Round Bars, Copper Nickel Alloy 70/30 Round Bars, Cu-Ni UNS C71500 70/30 Bars, and CU-NI-70/30 Round Bars & Rods which have given dependable services to decades while offering powerful innovative difficulties.
The expansion of nickel to copper enhances quality and consumption resistance while permitting these Copper Nickel 70/30 Round Bars to stay flexible. Different components can be added to Cu-Ni 70/30 Round Bars to build quality, consumption resistance, solidifying. These Cupronickel 70/30 Round Bars are ordinarily indicated in warmth exchanger or condenser tubes in a wide assortment of marine applications. The prosperous utilization of Copper Nickel UNS C71500 Round Bars in coinage is a direct result of its electrical conductivity, erosion resistance, solidness, pliability, riches of stamping (metalworking), low sensitivity hazard, recyclability and antimicrobial properties.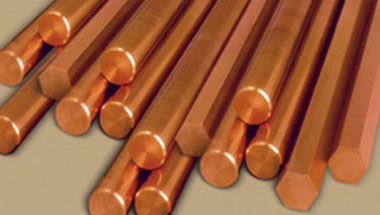 Specialization
| | |
| --- | --- |
| Specification | ASME SB151, ASTM B151 |
| Dimensions | ASTM/ASME & API |
| Size | 5 mm – 500 mm thick in 100 mm – 6000 mm |
| Finish | Polish & Black, Bright |
| Form | Square, Round, Hex (A/F), Rectangle, Wire (Coil Form), Wire-mesh, Billet, Ingot, Forging |